Create Text Overlays:

Click on the Tools button and select Overlays > New Overlay.
Modify Font as desired.
Select whether to include Default Leading Text.
• This will add the field name to the screen as well as the value ex. Period: 1.
• The user can also highlight and delete the leading text from "Text Item Properties" to remove the leading text.
Click the Select Field Data button to select a field to add.
Position the field as desired.
• Set Text Alignment to left or right justified for best results.
Click Add Text then Select Field Data to add additional fields.
Click OK to save.
Give the Overlay Template a Name and Description (optional).
Click OK to save.
Attach Overlays to One or More Edits:
Close all open edits in the playlist.
Right click on the edit(s).
Choose Apply Text Overlay and select which Overlay to apply.

To apply Text Overlays to each new edit saved in a particular folder:
Right Click on the Folder and select Properties.
Select the Network Organizer tab.
Select to Override the Default Headings Group and/or Default Text Overlay.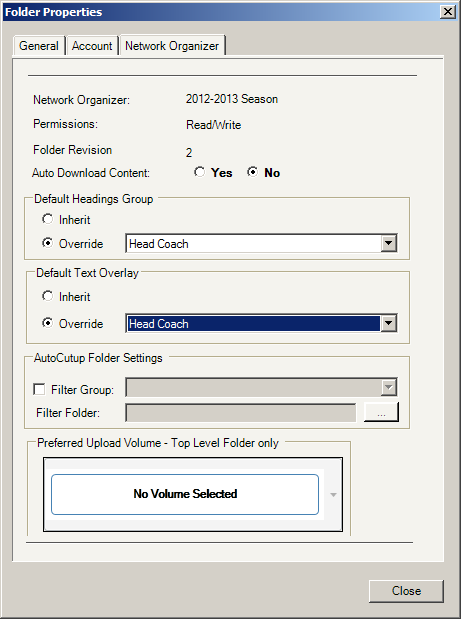 Note: This will only apply to new edits saved to the folder and will not change edits that already exist.
Attach Text Overlays:
Attach an overlay template by using the Text Overlay & Title Template button and selecting Attach Overlay.

Select attach overlay template to apply.

Change the Duration and Opacity of Text Overlays:
Click on the Hockey HD button in the top left.
Select Settings.
Select Media Player.
In the Text Overlay area enter the Default Text Overlay Duration.
Note- changing the duration to -1 will keep the overlay on the screen for the duration of the play.
Change the Default Text Overlay Opacity to make the overlay more or less transparent.