Drawing Tool:

The Drawing Tool adds permanent drawing, text or zoom to a play or plays within an Edit.
Note that this can not be done on a master.
Use the Show\Hide Drawing Tools button to begin Telestration.

(Top to Bottom) Spot Shadow, Circle/Oval, Arrow, Straight Line, Select a Zoom Area, Reset Zoom, Select Object, Clear (Clear Active, Clear View, Clear Edit), Freehand Draw, Text, Zig-Zag Line, Square/Rectangle, and Color Selector.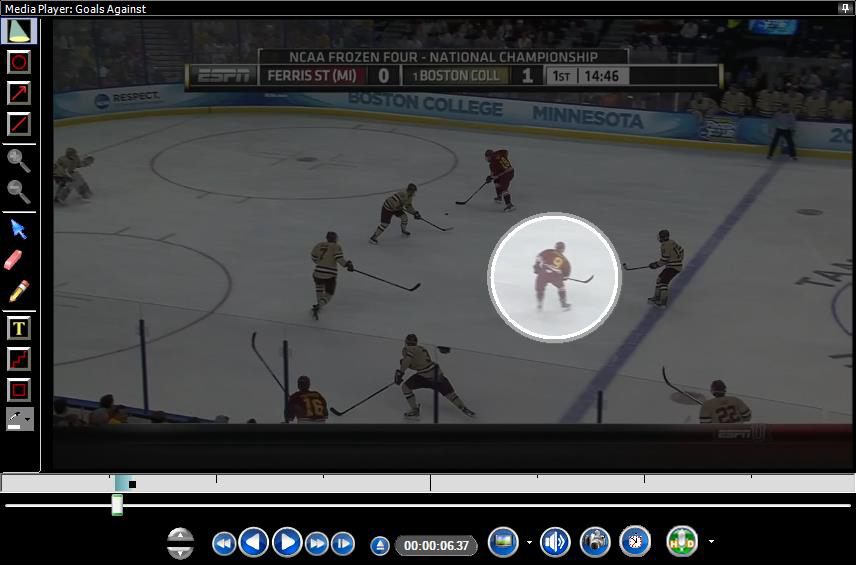 The red bar indicates an area of the clip which has used the Zoom tool.
The blue area indicates where one or more drawn objects appear.
Dragging the black square at the right edge of an area (the red area, in this example) will change the duration of the telestration.
To enable the ability to have the Edit stop at all drawings and have to be manually started again, there is a user-specific settings in the Media Player section for 'Stop on Teaching Point'.
Print a Video Stills
Click the camera button or right –click on full-screen video and choose Print.
Type in a title for the still, clear the title, or click OK to keep the play name as the title.

Note: Text Overlays will print if visible when shot is taken. To print with telestration, use the blue pen button to load the telestration tools and draw before clicking the camera.
Add Video Stills to a Playlist
Click the camera button or right –click on full-screen video and select 'Insert Into Playlist'.
Print a Video Still with Drawings
Click the camera button below the video window and select Print.
Enter a title for the printed page and click OK.
Telestrate
Quick Telestrate by holding down the left mouse button on paused, full-screen video.
Right-click and choose Colors or Pen Size to adjust the drawing tool.
Drawings will disappear once video is played or double-click to cancel the drawing.
Zoom
Enable Quick Zoom with a right-click on paused, full-screen video.
Select Zoom.
Drag to draw a rectangle with the mouse from the upper left to the bottom right.
Double click to cancel the zoom or continue to the next view.