After users create a Sportlogiq playlist and export the .MP4 and .xchange files, users can import the files into Thunder to create Edits or Masters with the associated data. The Sportlogiq workflow steps can be found HERE.
Upgrade to Thunder 21.1.3.2 Client Only HERE
Thunder Hockey Steps:
1. Launch Thunder.
2. Select the Import dropdown.
3. Select "Sportlogiq Import".
4. Once the Sportlogiq dialog launches, select "Browse".

5. Select the MP4 the user downloaded from Sportlogiq.
Note: Associated .xchange file from Sportlogiq will automatically be detected. Users will be warned if .xchange file is not found in the same directory as .mp4.
6. Select the "Create Additional Edit" checkbox if the user is interested in working with Edits rather than Masters.

7. Select either "Field Mappings" or "Import".
If the user selects "Field Mappings", the field mapping dialog will launch and the user can map existing Thunder fields to Sportlogiq fields, or create new Thunder fields to automatically map. The user should create or map Thunder fields for all Sportlogiq fields they want to see in the playlist.

If the user selects "Import", the .xchange and .MP4 file will transcode and import the files.The Field Mapping dialog may also appear here if there are any new fields detected, or any mapping errors are detected.
8. Once the files are done importing, a new window will appear and the user can select which folder the playlist will be saved to and which volume to import the media file to.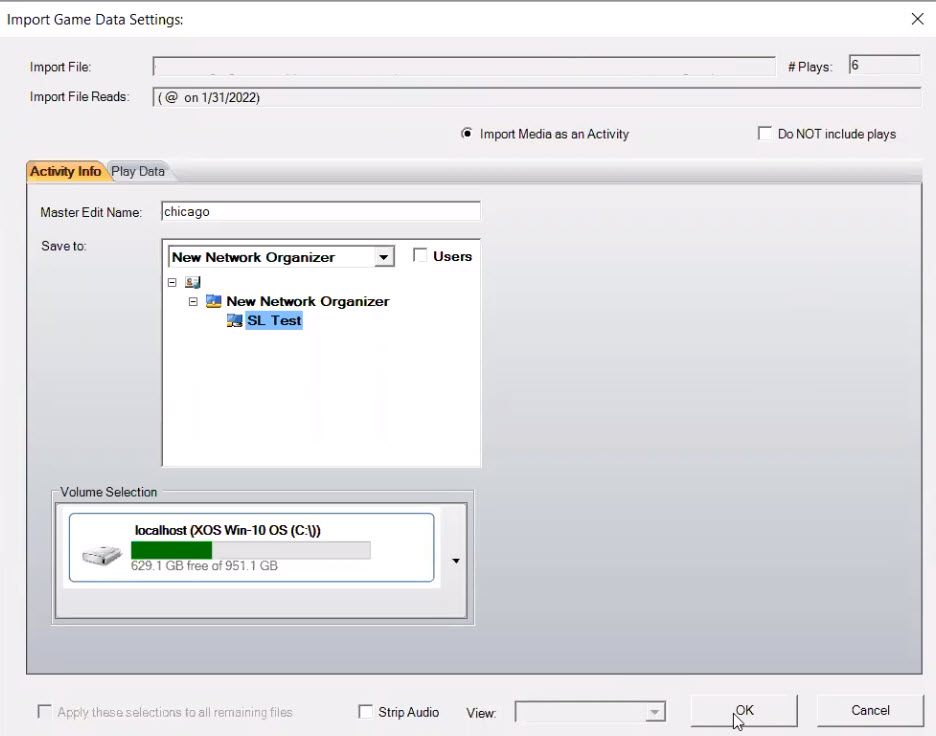 9. The saving process will run and the user will be alerted in the Sportlogiq window when the import is successful.

10. Finally, the user can navigate through the playlist and clips imported in Thunder.