ATEM HD Clock Overlay for Thunder v1.2
The XOS Blackmagic ATEM includes the following components:
ATEM unit with 12 Volt Power Supply

USB Cable ‐ ATEM to Laptop for Setup

CAT‐5E or 6 Ethernet cable ‐ ATEM to Laptop

Expresscard Ethernet port (Enet‐2 in diagram below)
Video Requirements:
Two HD video sources which can be either HDMI or HD‐SDI 59.94

The ATEM provides HD‐SDI Output on Prog SDI

This should be connected to the H.264 Pro‐Encoder for capture into Thunder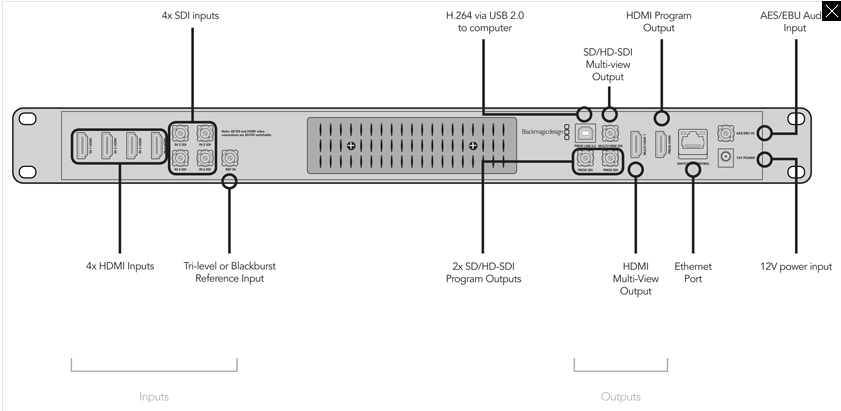 Example Configuration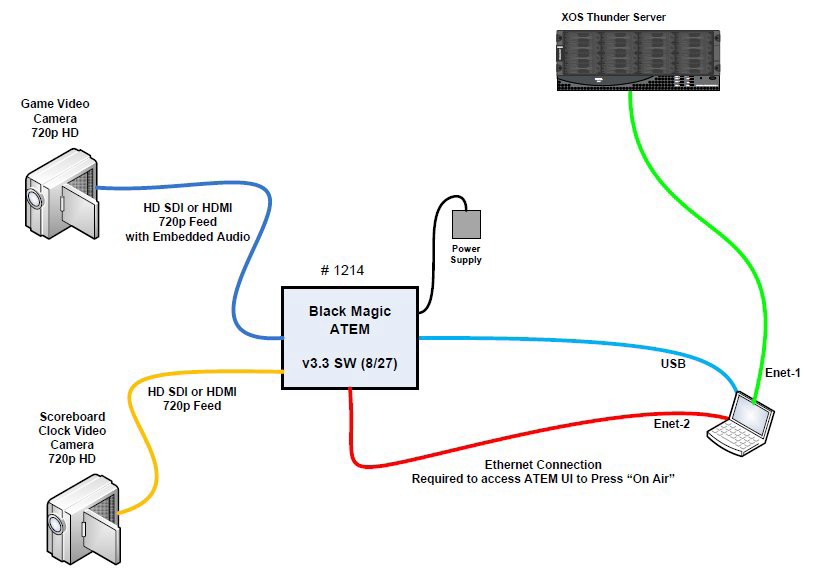 ATEM Setup & Configuration
The first step in setting up your ATEM is to connect the USB cable which will allow you to set up the IP address for your device:

Run the

ATEM Setup Utility

tool and use the XOS recommended settings listed below

Note ‐ This will only need to be performed once upon initial configuration of your ATEM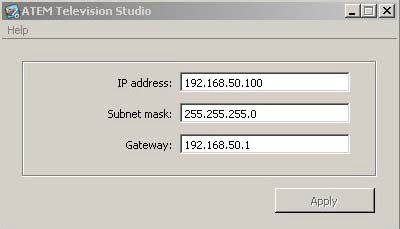 Next an Ethernet cable must be connected between the laptop and the ATEM in order to use the ATEM UI to control the ATEM

To connect via your laptop the IP address must be assigned to the Ethernet adaptor provided to be able to communicate with the ATEM device

Note ‐ the Default gateway should be left blank on the Laptop as shown below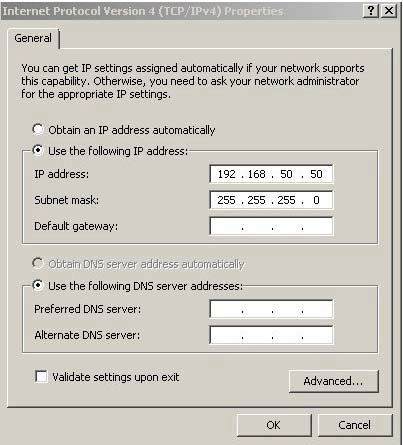 ATEM Software Control
When you launch the ATEM Software Control application on your laptop you will need to define the IP address

of your ATEM device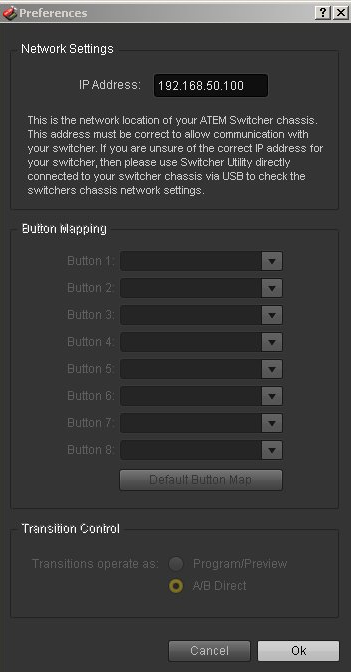 Click OK and if the Laptop can communicate to the ATEM over Ethernet the following UI will appear: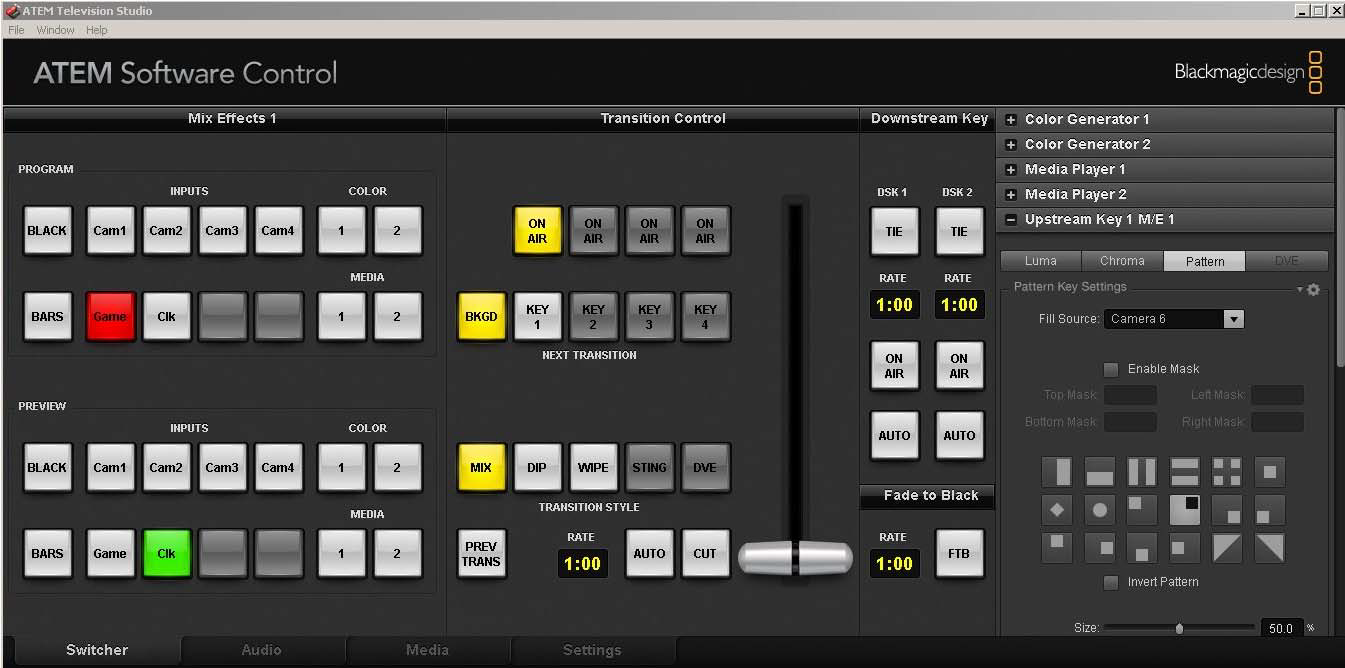 Be Sure to Select On Air to enable Video Key output to Program SDI
Settings Tab
Perform the following to configure the video format
Note ‐ For use with Thunder all Video Inputs must be 720p

Use an Up/Down/Cross Converter if necessary to provide the correct format

Set video standard to 720p5994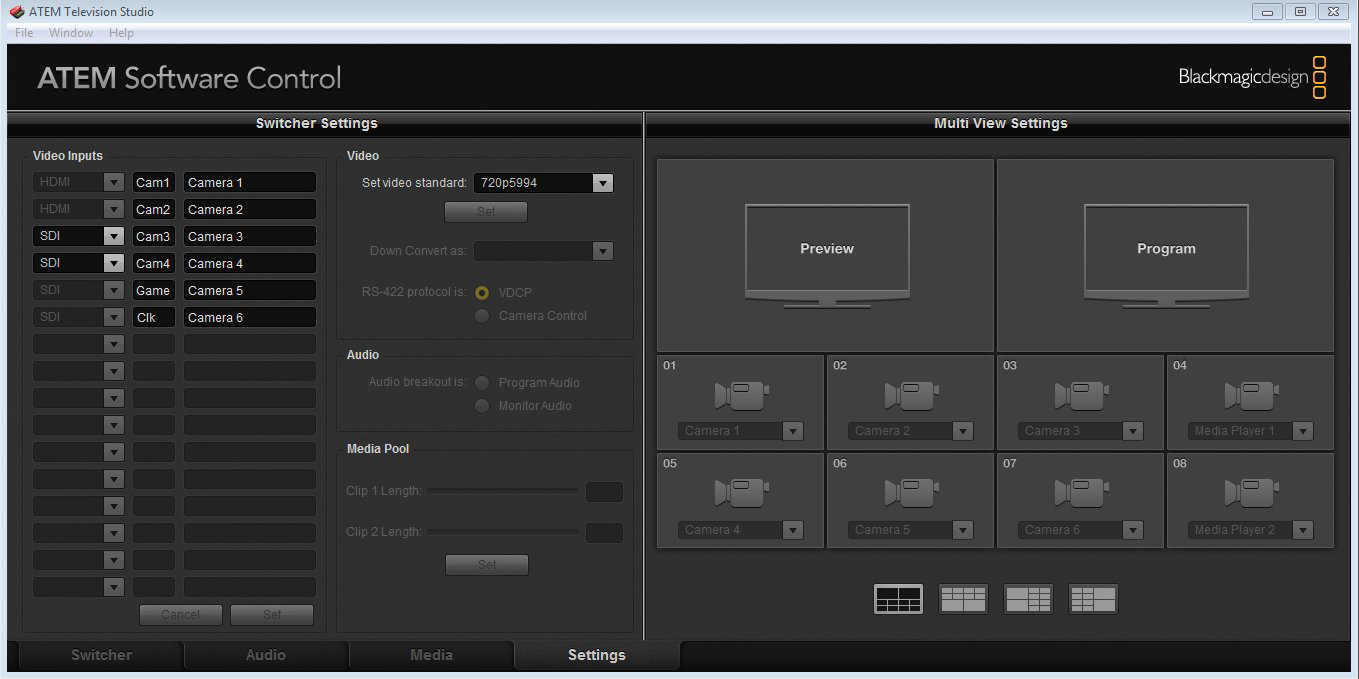 Now you should be able to use the ATEM Software Control UI to configure and operate your switcher
First select your game camera feed as the program source
Next press the "On Air" button to enable Video out to the Program SDI outputs.
Before proceeding confirm that you have the ability to select a Video source and see the resulting Video Output to an HD‐SDI monitor connected to Program SDI.

You can also use the Media Express Application to check video.
Audio Pass Through
Perform the following to configure audio pass through.
On the bottom row of the ATEM Software Control UI click the Audio Tab
The UI shown below should now appear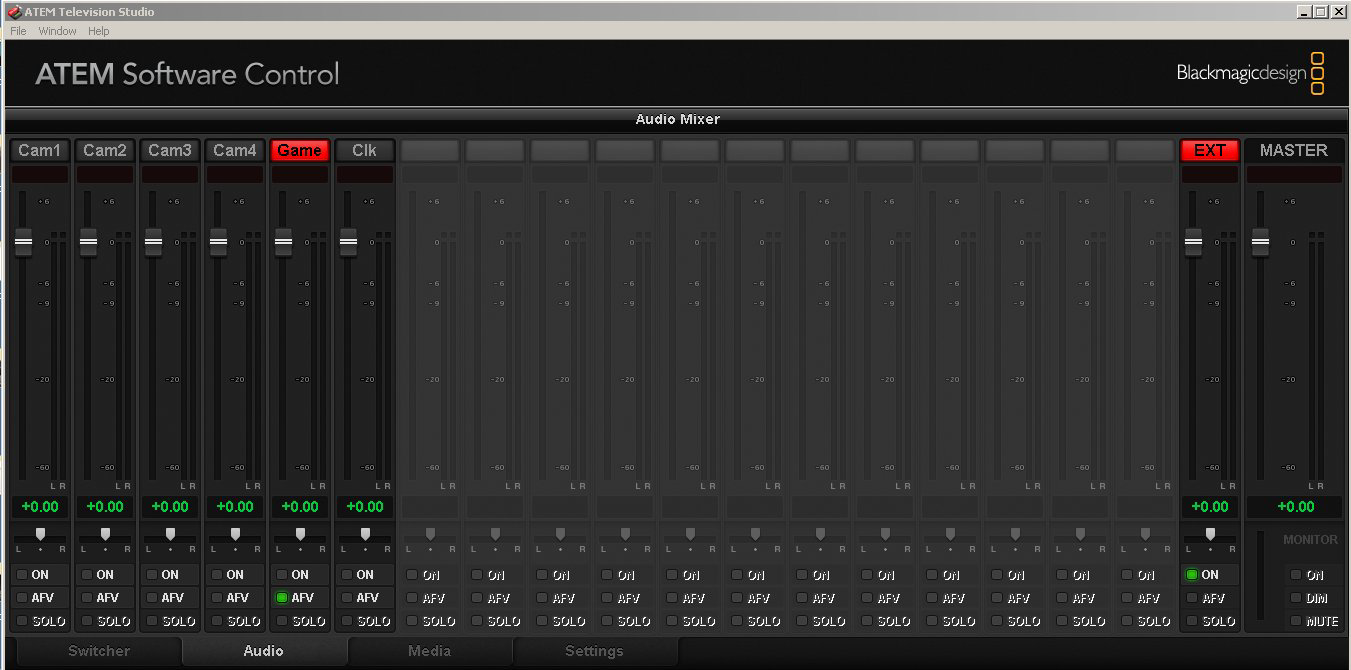 In order to allow Audio to pass through as shown below you must:
Select AFV (Audio Follows Video) for the channel with Game Audio
Ensure that EXT has ON selected
Save Settings as the Startup State
Perform the following to save your settings as the Startup State
Note the state of the On Air button cannot be saved at this time
You must click On Air via the ATEM UI after power up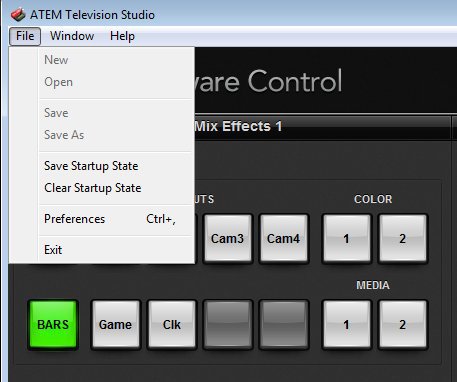 Creating an Upstream Key to overlay Clock Video on Game Video
The next task is to use the "Upstream Key1 M/E 1" to create an effect for
the Clock video

Select the fill source as your clock camera
Choose the position you would like the clock to appear from the presets
We have chosen the lower right position for this example
Adjust the size and symmetry of the picture to meet your needs
Note: the secondary screen is "cut" to only show the area you
define. This is not a resize of the secondary source. You will
have to position the clock in the appropriate area of your shot to
match this area.
In this example the clock is positioned in the lower right of the
camera shot so it lines up with the key box for size and position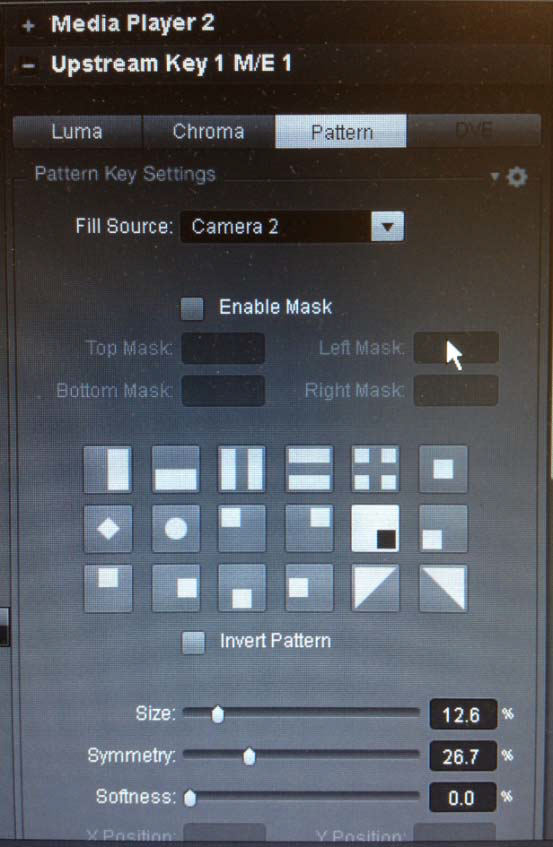 In our example we created the following Upstream Key to put the Clock
in the lower right hand corner of the Screen as shown: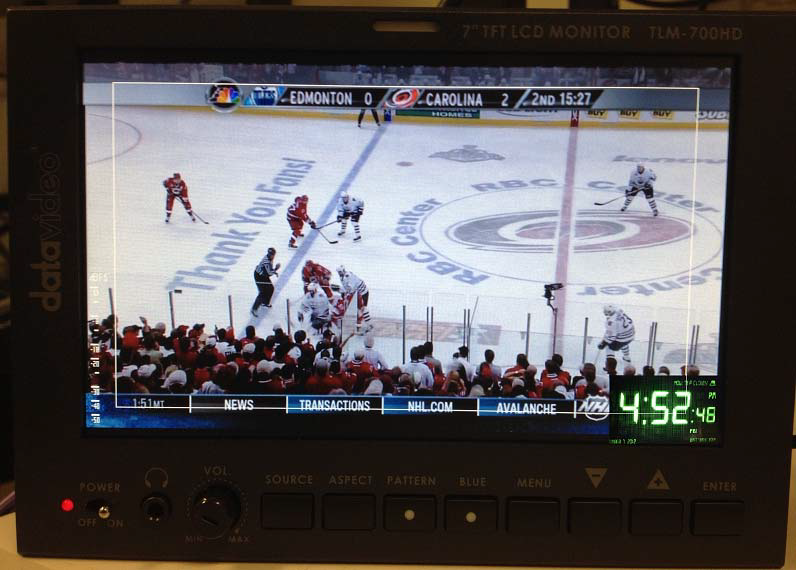 Troubleshooting Tips
ATEM GUI is all Grey and Not Functional

The laptop cannot communicate over IP (Ethernet) to the ATEM

Check network settings
Try pinging the ATEM

The ATEM and XOS BlackMagic H.264 Capture Devices use different drivers

You need to have the correct matching driver loaded for USB capture to work.

ATEM = 6.4
BM H.264 = 10.4

Media Express Application

When using Media Express for Video verification you need to ensure that the Media Express App can connect to the ATEM.

If Media Express does not connect the Video Data Line will indicate 1080i and NOT reflect what the actual Video signal is.

Check the connection status under the Media Express Device Menu