Deleting, Copying, Cutting and Pasting Objects
The majority of Play Diagrams are created by combining and modifying certain elements from existing diagrams into a new one. To facilitate this, PlayTools supports a rich set of Cut, Paste, Copy, and Delete functionality.
These tools can be used within a single diagram and between multiple diagrams.
Field Labels and Properties can be deleted by selecting them from within a diagram and either pressing
the Delete key, or by right-clicking and selecting the Delete option. Note that the standard Windows hot key combinations of Ctrl+C (copy), Ctrl+X (cut), and Ctrl+V (paste) are available, although these commands are also available by right-clicking on a selected Player or Field Label then selecting the appropriate option from the context menu that appears.
When pasting to a new diagram, the objects are copied to locations relative to the reference positions (Line of Scrimmage and Hash Mark) of the "source" and "target" diagrams. The following example illustrates this concept.)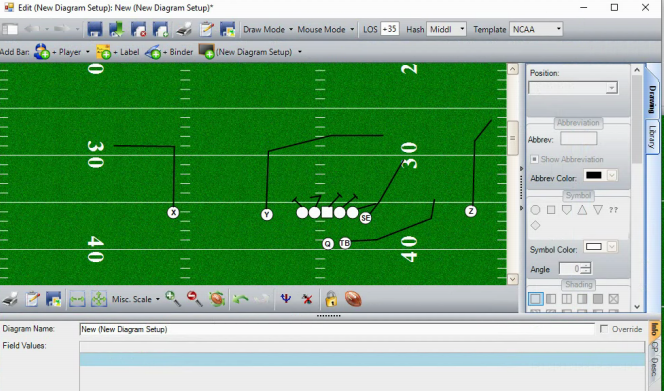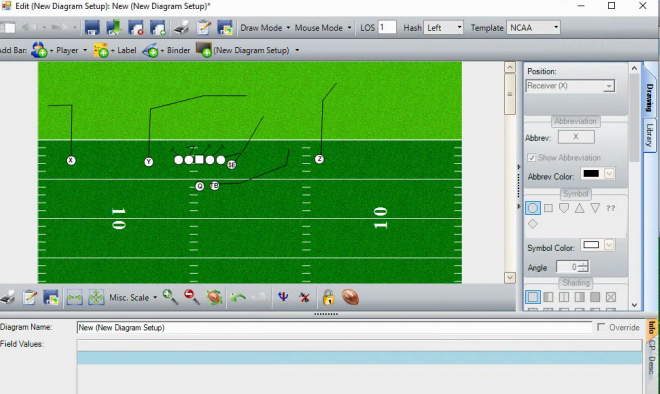 The original diagram is drawn at Line of Scrimmage = 35 and Hash Mark = Right. The target diagram (on the bottom) is drawn at Line of Scrimmage = 1 and Hash Mark = Left. When players from the original diagram are copied and pasted onto the target diagram, notice that PlayTools automatically adjusts relative to the reference position so that all players are copied into a sensible position. Note that, when you paste to the target diagram, any objects that are currently selected (on the target diagram) will be removed from the target diagram before placing new players onto the diagram.
If copying and pasting back into the same diagram, Field Labels and Players are duplicated (and therefore Positions will be duplicated) with the new Players and Field Labels being pasted placed slightly offset from
their original position.
To delete, copy, and/or paste objects:
1. Open a diagram for editing or viewing
2. Select objects (Players and/or Field Labels)
3. Copy and paste the objects back to the same diagram or to a new diagram
Advanced Diagramming Operations
Jump to Contents PlayTools User Guide - 23
Undo/Redo a Diagram
PlayTools supports up to 10 levels of diagramming "undo." The Undo/Redo operations only apply to the
manipulation of the diagram elements themselves (Players, or Field Labels, for example). Changes to
metadata (such as Field Values) or other non-diagramming elements (such as Play Name) cannot be
undone.
You can access the Undo and Redo operations by either clicking the buttons on the toolbar located below
the diagram, or by using the traditional Ctr+Z (undo) and Ctr+Y (redo) key combinations.
The buttons on the toolbar automatically become enabled or disabled based on whether or not there are
Undo or Redo operations available.
To undo, redo a diagram:
1. Open a diagram for editing.
2. Make changes, as necessary.
3. Undo (Ctr+Z) and Redo (Ctr+Y) changes, as necessary.