Issue: Machine Getting Error "Upload Assets On Return" exiting Travel Mode
Laptop exiting Travel Mode or Launching connected to server. Gets a Unhandled Exception "Object not set to an instance of an object"
List of Symptoms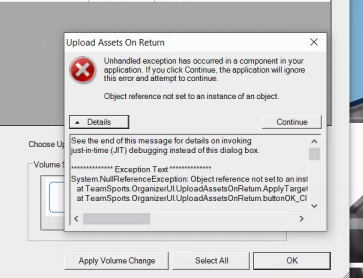 Expected Behaviour
Return from Travel Mode - No Errors should be seen. You should be able to see all server volumes in the Volume Selection.

Cause of Lack of Credentials Entry
Local Asset Management is not able to see Server Asset Management to query the available Server Volumes
Resolution or Troubleshooting Steps:
1. Authenticate to the server
Start - Run
\\servername
Enter the un/pw that are used for cross authentication (click Remember Credential)
If on a workgroup, you can store the credentials in the Windows Credential Manager

Launch Windows Credential Manager
Enter Credentials for Server (Name or IP)
2. Run the Restricted Users Setup Tool - Opens Firewall Ports
Start - Search - Restricted Users Setup Tool
Right Click on the app and Run As Administrator
Click Assign Permissions
3. Reboot the computer