XOS Restricted Users Setup Tool - Solve Surge, Sync, and Exchange Agent issues
PROBLEM:
XOS Identified a high number of issues regarding Surge, Thunder Sync, and launching the Exchange Agent after a Windows Update.
SOLUTION:
XOS added more tasks to the XOS Restricted User Setup Tool to apply many of the fixes for the above problems programatically. The original purpose of the XOS Restricted User Setup Tool was to allow non-admin users the proper permissions to use Thunder. That is still needed, but the utility is useful for all Thunder users.

The Restricted User Setup Tool now performs the additional tasks
Opens needed Firewall Ports
Changes the Thunder network from Public to Private.
Corrects the registry permissions for the Inaccessible Logs: State error (only on Win 10 1809)
HOW TO EXECUTE:
Click Start
Search Restricted
Hover over the XOS Restricted User Setup Tool (could also Right Click the XOS Restricted User Setup Tool
Select Run As Administrator
Click Assign Permissions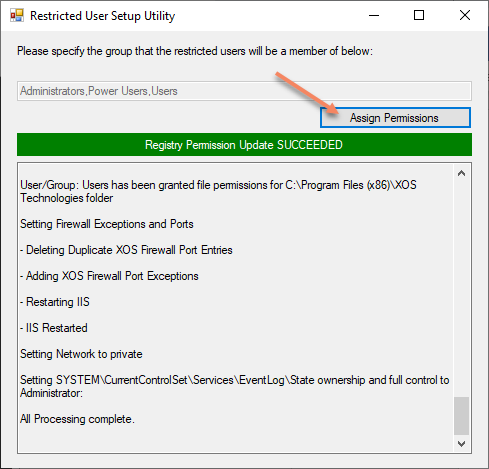 EXAMPLES of fixes.
Exchange Agent won't launch

Anytime you see a permissions error, run the Restricted Users Setup Tool

Network Type is Public
Surge - Files are downloading / Uploading
Surge - Client is unavailable when trying to send a Surge Set

If you know they are online, run the utility and restart

Slow launch of Thunder
Slow Import/Export of Media