Thunder Football version 21.2 is a server, client, and media service update. Please see the details below.
Jump To ➡️
Thunder 2021 - 21.2.0.9 Package
New
We've added support for the auto-resolving of Pro Football Focus data with NCAA Exchange Co-Op games. For more information about this workflow, Please Click Here.
We've added six additional systems views to support future updates for NFL workflows.
| View Name | View Label |
| --- | --- |
| Endzone Tight | EZT |
| Endzone Home Backs Tight | EZHBT |
| Endzone Visitor Backs Tight | EZVBT |
| Endzone Wide | EZW |
| Endzone Home Backs Wide | EZHBW |
| Endzone Visitor Backs Wide | EZVBW |
Updates
We've updated the Copy Master Edit(s) for SOB tool to maintain data provider updates on copied masters.
We've updated the security permissions for Super Administrator users.

We've updated the Thunder Client and Server Admin tool to only allow Thunder Super Administrators to move or delete server files in the Asset Management section.

The Organizer Server Tool has been modified to only allow Thunder Super Administrators to delete Network Organizers.

Game property information will be included in the .xchange file when using Export Edit Files.
We've updated Exchange Agent to compress SQL database backups that are created when choosing to backup the local DB when dropping a subscription.

We've modified the client synchronization process to decrease the size of the total database stored on a local machine.

We changed our maintenance plans to clear clients that haven't connected within 30 days from the ThunderMonitor database.
We've removed the ability to access the Manage Filters window while in Travel Mode.
We've blocked user's ability to create new playfields with internal playfield names.
We've expanded the setting in the Cloud Settings Manager to allow users to update their subscription expiration beyond 31 days.
Bug Fixes
We've updated Exchange Agent to prevent users from backing up their database when dropping a subscription if there is not enough disk space available to store the backup file.
Known Issues
Users will receive an unhandled exception when using the mini-thumbnail preview in the Marking Tool when the VPN Priority is enabled.

The last GOP from the previous view will display when playing back media through Thundercloud.
Copy Master Edit(s) for SOB
We've updated the Copy Master Edit(s) for SOB tool to maintain third-party play data updates for the new masters.
Copying the master edit with this option checked will:
Create a new Thunder master with new plays that maintain third-party data updates
Set Game Properties on the new master
Copy all existing playfield values currently available on the source master.
Flip the ODK values to their corresponding opposite value.
To use this option check the box to the left of Copy plays to maintain play data updates.
This option is only available on Master Edits that have been pushed from Catapult Exchange or resolved with Pro Football Focus data.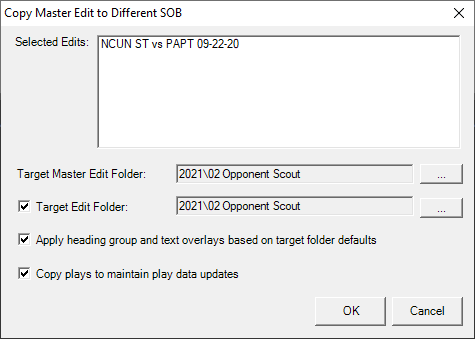 If a master hasn't been pushed from Exchange or resolved with PFF data then the option will be disabled and the user will receive a warning.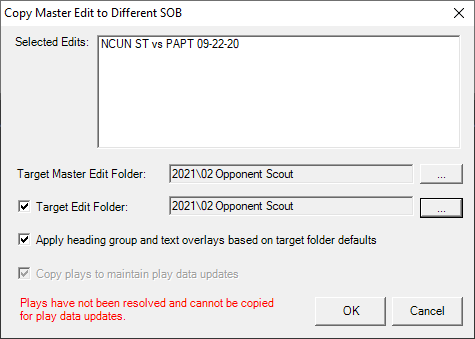 If both versions of a master (home and away scouted) exist in the Thunder database then users will be prevented from copying the plays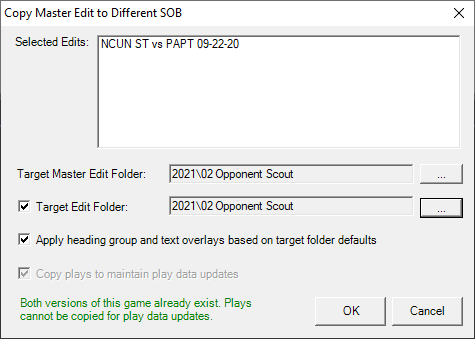 Support Details
Minimum Server Version
Minimum Client Version
Components Updated
Server, Client, Thundercloud Media Service, TC Sync Service
Supported Database and Asset Management Server Operating System
Microsoft Windows Server 2012 R2
Microsoft Windows Server 2016
SQL Server 2012 SP4
Supported Client Operating Systems
Windows 10 Professional Version 20H2
Supported Versions of Microsoft Office
Office 2019 – 32 bit
Office 365 - 32 bit
Office 2016 – 32 bit