Import AVCHD Content - Camera Footage
Click on Tools -> Import AVCHD button
Select the drive from which you would like to import

Click the

Load Clips

button

After the clips load choose whether to

Import as

single Master Edit

or group clips into multiple Edits
Single Master Edit
Click

Next

Type in a Name

Select the

View

Select a destination Folder

Select a destination Volume

Click

Finish
Multiple Master Edits
Uncheck

Import as single Master Edit

Select multiple clips using Ctrl or Shift keys

Click the

Group as Edit

button

Give the edit a

Name

Repeat until all clips are assigned to an Edit

Click

Next

Select the

View

Select a destination Folder

Select a destination Volume

Click

Finish
JVC Import MP4
This menu leverages the same window used for AVCHD Import. This allows users to import all clips as a single master edit or group clips as separate edits.
Camera Settings

System -> Record Set -> Record Format: Exchange - Resolution: 1280x 720
Once you do this the camera will reset.
System -> Record Set -> Rec Mode: Normal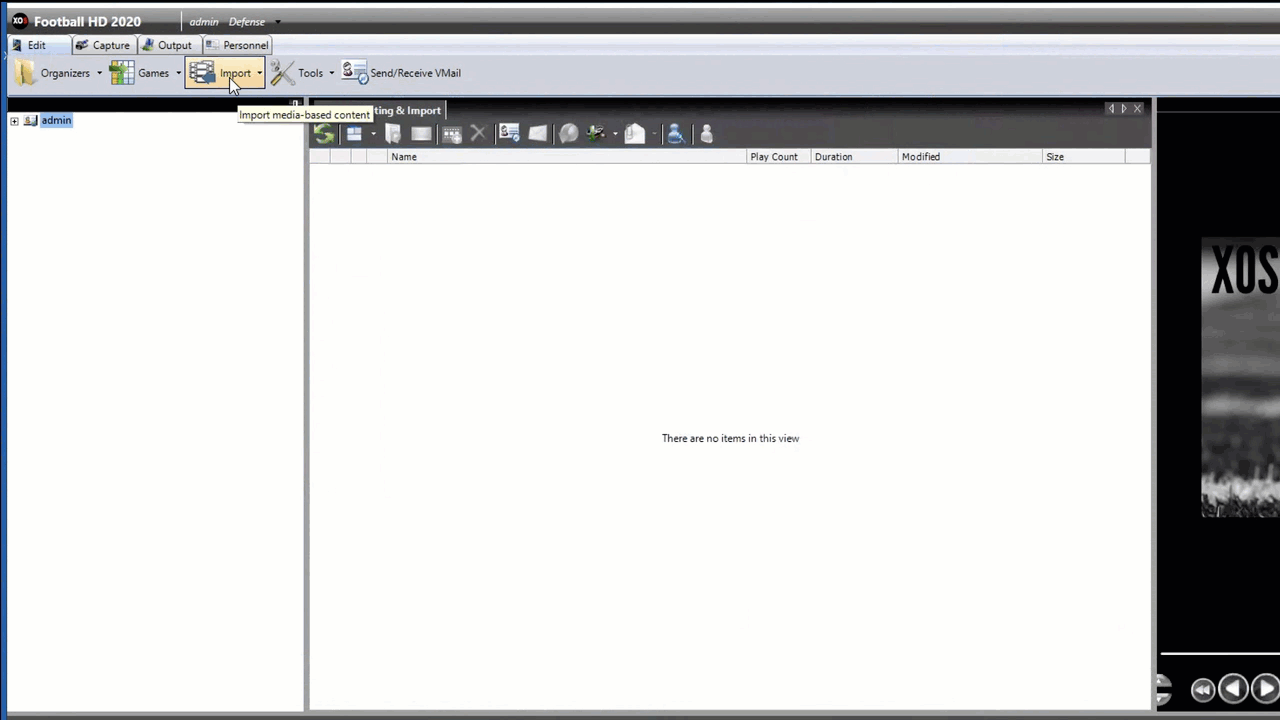 Click on Tools -> Import JVC Content -> Import .Mp4 Content

Select the drive from which you would like to import

Click the

Load Clips

button

After the clips load choose whether to

Import as

single Master Edit or group clips into multiple Edits
Single Master Edit
Click

Next

Type in a Name

Select the

View

Select a destination Folder

Select a destination Volume

Click

Finish
Multiple Master Edits
Uncheck

Import as single Master Edit

Select multiple clips using Ctrl or Shift keys

Click the

Group as Edit

button

Give the edit a

Name

Repeat until all clips are assigned to an Edit

Click

Next

Select the

View

Select a destination Folder

Select a destination Volume

Click

Finish
Import Raw Media File - MP4 file from Opponent
Click on Import button and choose

Import Raw Media File
Change the

Files of Type

dropdown to the file type to be imported

Navigate and select the media file to be imported

Thunder will perform a quality check on the video file
If the media is not Thunder compatible then you'll be asked to transcode the media
Once the quality check/transcode process is complete the

Import Game Data Settings

window will appear

Type in a

Master Edit

Name

Select destination Folder

Select destination Volume

If importing multiple files, check the

Apply these selections to all remaining files

Click

OK