Portable Organizer - Import Data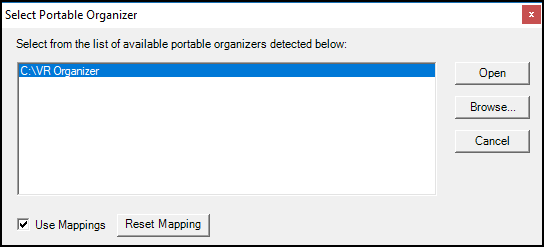 Workflow
In Edit Station click on Organizers → Open.
Click the Use Mappings

checkbox to enable data import.
Clicking Reset Mappings

will remove the last used mappings by the target database.
Choose the Portable Organizer (PO) then click Open.
Choose the edits you'd like to copy from the PO and copy them to the target database.

The Field Mappings Changes

window will open to alert the user of fields found and the automapping results. PO fields without a matching FieldMetakey on the Target database will be set to <<Ignore>>.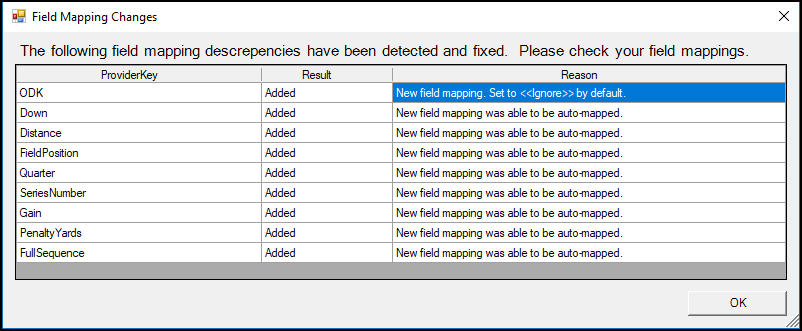 After clicking OK the Field Mapping window will open and users can assign or change any field mapping. Users can also create a new field within the window.

After closing the Field Mapping window, select where to copy the media to then click OK.
Once the process completes the new edits will appear in the target database with the data included.

Notes
The ability to copy data from a Portable Organizer to Thunder is only available in Edit Station for Administrator or Super Administrator users.

Users are unable to open edits on Portable Organizers that have been added in Mapping Mode.
To view edits, close and reopen the Portable Organizer without choosing Mapping Mode.
Users can't move or copy items to a Portable Organizer opened in Mapping Mode.
Data fields map automatically if the the Field Metakey is the same on the PO and target database.

The following system fields won't be automapped and will not appear in the Thunder Field column.
DefenseTeamAbrv

DefenseTeamName

DefenseTeamOrg

FirstDownMade

GameDate

GameID

HalfMunusOne

ODK

OffenseTeamAbrv

OffenseTeamName

OffenseTeamOrg

PercentDistMade

Plays

PlayID

PracticePeriodNumber

RemainingDist

ScoreDiff
The tool will only remember the last used mappings. Mappings are not stored on the Portable Organizer or the target database for future use.

Headings Groups and Overlays will not be copied over.

This workflow is only recommended for copying data from a Portable Organizer created on a database different from the target.
Users should continue to use their existing post game workflow for copying data from a Portable Organizer to their Thunder database.

If the Thunder PlayID being copied to the target database matches a Thunder PlayID that already exists the Portable Organizer data will not be copied over.