Vuze Stitch Guide
• Connect the Vuze camera to the computer.
• Launch the StitchVuze program from the shortcut on the desktop.
• Drag all the files from the from DCIM → 100HETVR into the Drop Files section of the stitch window.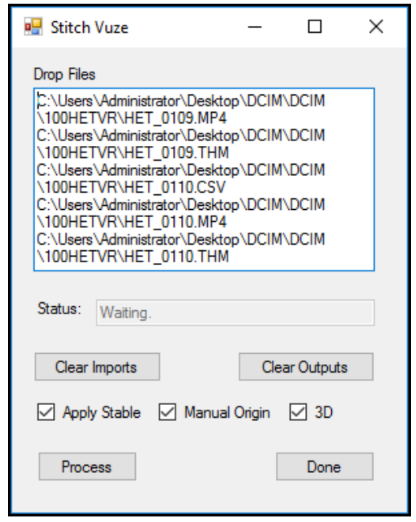 • Configure the checkboxes for the output process.
o Apply Stable: This will use stabilization data captured during the
filming process.
O Manual Origin: This will open the XOS Media Player after the render process to allow the user to select the forward view of the camera.
o 3D: This will process the video to be rendered in 3D.
• Click Process proceed to copy from the card to the Vuze_Import folder which was created during the client install.
o File path for Vuze_Import: C:\XOS_Vuze\Vuze_Import
• When this process is completed the Humaneyes VR Studio will automatically open.
• Click the + button to select your import directory (Vuze_Import).
• Next, select the clips you'd like to use then click Render near the lower right corner.
• Users must set the resolution prior to the render process beginning. Due to a bug in the Humaneyes software this must be set every time the program is open.
o For 2D rendering click the 2D radio button and set the resolution to 2816x1408. o For 3D rendering click the 3D radio button and set the resolution to 2816x2816.
• The render process is finished when the status message in the lower left corner says Complete.
• Close the Humaneyes VR Studio.
• If Apply Stable and Manual Origin were selected the XOS Media Player will automatically open each clip that's been rendered in order to set the pitch and yaw of the stabilized video.
o Click and hold the left mouse button to set the pitch of the video.
o Click and hold the left and right mouse buttons together to set the yaw.
o Close the window by clicking on the X in the upper right corner to confirm your selection.
• Once all files have been stabilized they're ready to be imported into Thunder.
o All files are in the Vuze_Render folder. o File path for Vuze_Render: C:\XOS_Vuze\Vuze_Render