Description:
The following is a list of the files and related media file-extensions that should be excluded from being scanned by Antivirus software running on a Thunder client and/or server. If these AV exclusions are not properly configured, Thunder performance and video playback will be affected.
File extension Exceptions:
asf, avi, bmp, btr, db, dbf, dif, idx, jpg, ldb, ldf, log, mdf, mdw, mdx, mov, mp2, mp4, mts, mxf, ndx, omf, ppt, pptx rtin, sbf, ts, wmv
Folder Exclusions:

Required for Import AVCHD in Thunder 22
C:\Program Files (x86)\XOS Technologies
Additional Guidelines:
Disable scanning of network attached storage volumes to prevent multiple clients from scanning media on Thunder Servers. Configuration example below is using Symantec AV.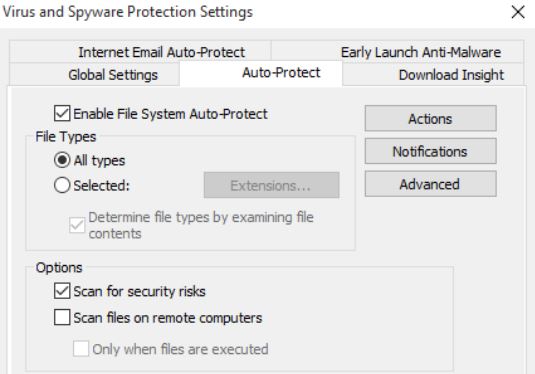 Configure Antivirus software to ensure that updates and/or scans do not occur during periods of heavy usage (meetings, syncing to travel mode, etc.) and when Database Maintenance Plans are running. We recommend scanning Daily at 5am.