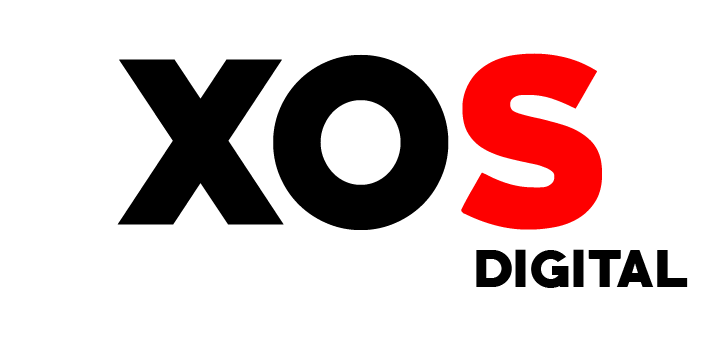 ThunderCloud iOS - 19.2.1 Release Notes
Supported Operating Systems
iOS 11 (11.4.1)

iOS 12 (12.1.4)
New Features
We've added an Edit Play Comment feature that allows users to create private comments per play and edit.

We've created a Search mode that allows users to search across Game Properties and play data.

Users can reorder and remove plays from an edit in their My Folders.

Scout users can display players and teams on a map.

The Scout Timeline will updates users on the latest reports and actions taken on a player or team.
Updates
iOS contacts are now available when emailing through our Lift and Share feature.
Bug Fixes
We addressed a bug that caused imported media to playback incorrectly.
Known Issues
FaceID isn't available during the login process.

Sound annotations have been disabled in Playbook due to a bug with the third-party control used.

The ODK column will be removed in Imported media after a user sorts the column and closed the application.

The Record feature crashes the app when users try to access the master created in the Imported media section.
Edit Play Comments
Overview
ThunderCloud users mapped to a Thunder Intermediate User, Power User, Administrator or Super Administrator have the ability to create a comment on a play within an edit.

The comment is only available on that play within the edit or if you save the play to a new edit. .

The comment can be viewed by any user with access to the edit.
Workflow
Within the playlist or in full screen a Comment icon will appear next to the play number.

Users can tap the button and enter text for the play.

Users can view the comment by tapping on the comment icon.
---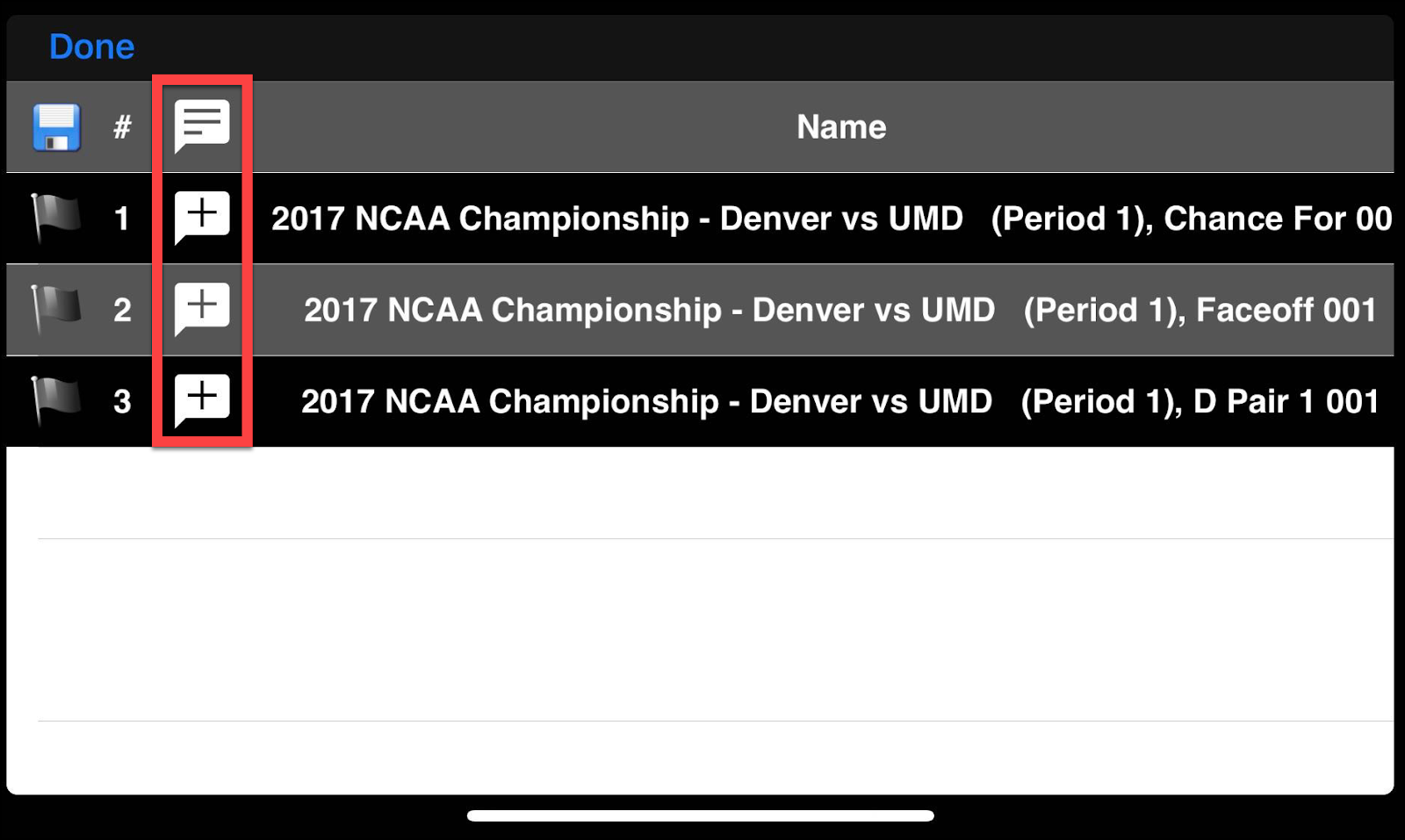 Search
Overview
We've added a Search module that allows users to create playlists based on Game Properties and play data.

Search must be enabled by XOS for each team.

In ThunderCloud SSO, customer administrators can grant permission to the feature on a per user basis.

Thunder denied fields and side of ball permissions (Football only) are not respected in Search.

There is a search threshold set due to memory limitations within the application.

Setting Game and Play search criteria is required to perform the query.
Workflow
Game Search
All users can search based on the following Game Properties.
Away Team Team Code

Game Date

Game Type

Home or Away Team Team Code

Home Team Team Code

Scouted Team Team Code
Additional search options are available for for sport specific properties.
Scouted Team ODK

Used By Group Name
Users have the option to pick a heading group to filter the list of available playfields.

If a headings group isn't set the user will see all playfields in the database.

Clip types are available in all headings groups for baseball, basketball and hockey users.

Only two operators are available
Equals - searches for values equal to the selected criteria. Users can select multiple values with the same search.

Contains - searches for values containing the text entered.
Reorder and Remove Plays from an Edit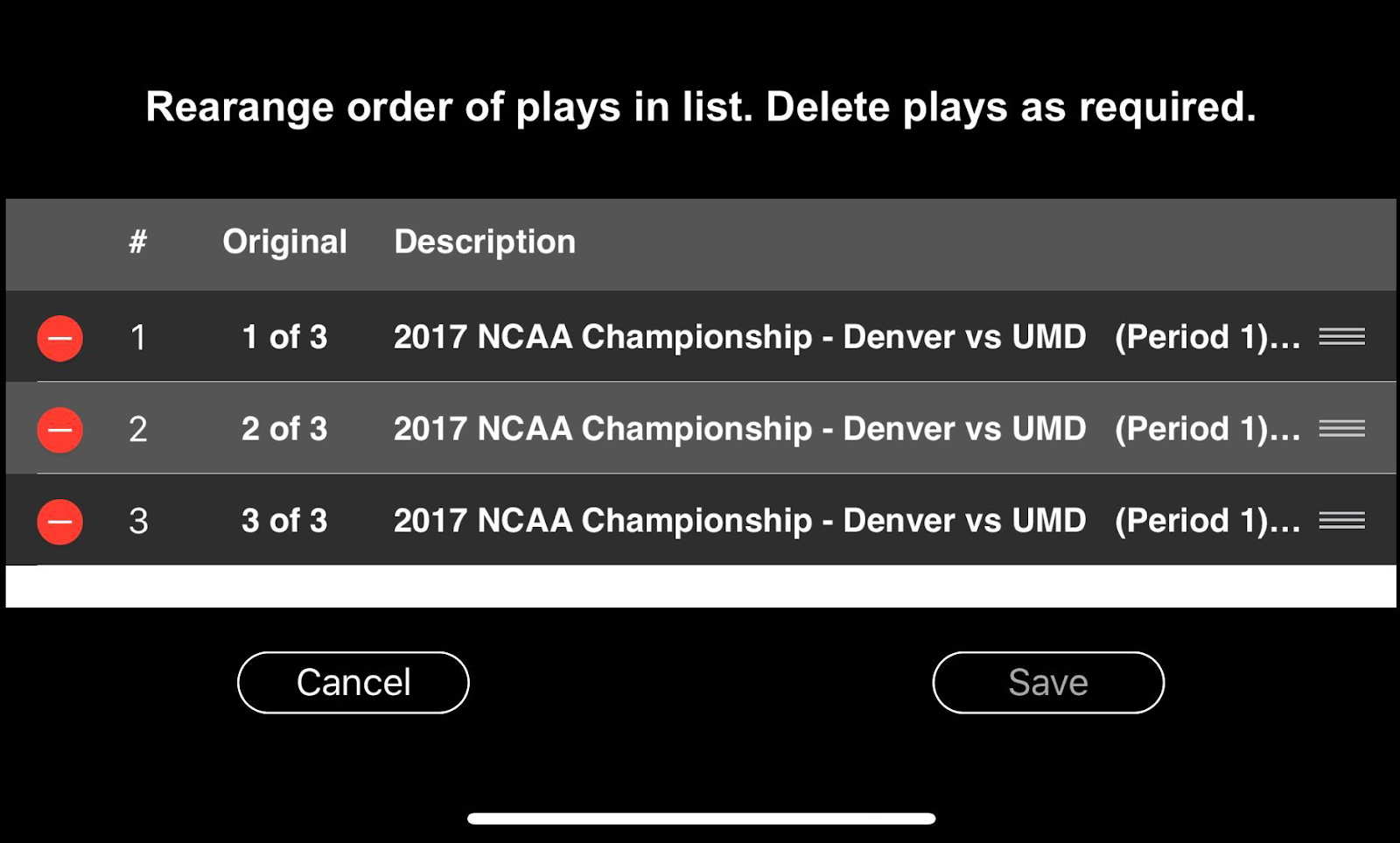 Users can reorder and remove plays from an edit in their My Folders

.

To access the reorder and remove screen tap on the Save icon then choose Reorder Edit Playlist.
Remove plays by tapping on the red circle then choose Delete.
Tap and hold the hamburger icon on the far right of the playlist to Reorder

plays.
---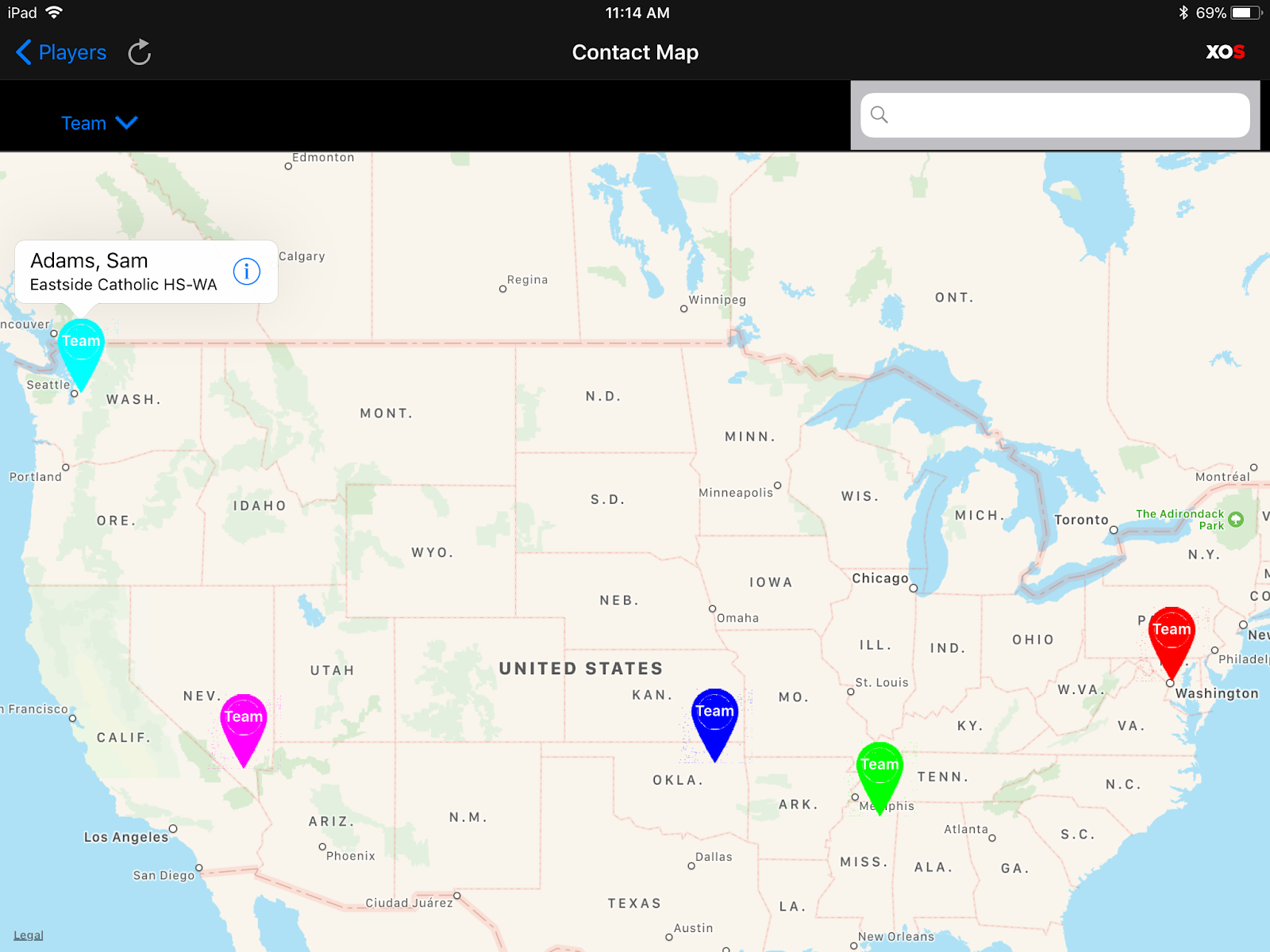 Scout: Map Players and Schools
Overview
Users can now select multiple players or teams from any search results and place them on a map
Workflow
Search by Player Name, Team Name, Static List, Team Static List, Player Dynamic List.

Select the results you would like to map.

Touch the 'Map >' button.

Toggle between player or team addresses.
Scout: Search by Player or Team Timeline
Overview
The new timeline functionalities in Scout allow for users to quickly see what reports are being created on players or team by other members of their staff. Follow along with your staff on the road or stay on top of current events in office. Timelines now available on player and team pages for individual overviews as well.
Workflow
Select Player or Team Timeline as the main search mode.

The resulting list of players or teams will be all of the timeline enabled reports with the most recent at the top.
Player Notes

Player Evals

Workouts
Swipe right to view the report or the player/team.

Swipe left to edit the report or create a new one.