ThunderCloud Xchange User Guide

Requirements
Java: It is necessary to install Java for ThunderCloud EXchange to function properly. If Java is not installed, you will be prompted to install it.
To install Java got to http://Java.com and click "Free Java Download" button
Log in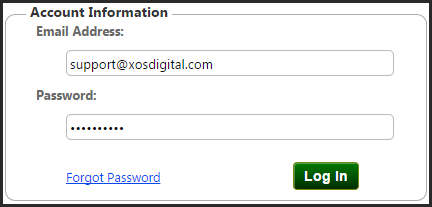 Go to:

http://tcx.xosdigital.com

Enter a user name (e-mail address) and password and click the "Login" buton.

Install the

Transcode Client

. Click on the installer link corresponding to the platform you are running (Mac or PC) and follow the onscreen installation instructions.
User Preferences

Click on the User Preferences Tab
The user preferences allow users to do the following:
Set a Default Conference Office
Specify a default name for downloaded files
Set a Default Download Directory (Where your file will download on your computer)

Download Media Preferences
To change the transcode settings when downloading, click the desired transcode option from the Download Media Preferences drop-down menu. It's recommended that you use the preference settings in the picture to the right.
How to Download Files

Click on the Shared to My Team tab
You'll see a listing of all the files shared to you
Download Individual Files

Expand the next to the set and click the blue hyperlink to the file
Download All Files within a Game

Click the checkbox to the left of the row and click the

Download Select Files within a Game

Select the checkbox for the files you want and then click

Download Multiple Games

Select the checkbox for the game sets that you want then click

Transfer Queue

Your downloads will appear in the

Transfer Queue

as they download
Please note that the web page must remain open in order for the files to download